How do you communicate with friends and family?
For the last decade or so – and certainly for the duration of the COVID-19 pandemic – there has been a surge in the use of encrypted messaging apps. From iMessage to WhatsApp to Telegram, the options are seemingly endless.
In January 2021, however, a newer platform experienced a significant spike in popularity.
It all started with a simple tweet. When Tesla CEO Elon Musk spoke out against Facebook's latest privacy policy updates, recommending that people instead use Signal over the platform's Messenger (and the Facebook-owned WhatsApp), the public took note. Twitter CEO Jack Dorsey then retweeted Musk's message, and Signal immediately became more popular than ever.
On 11 January, the Signal app was downloaded 1.3 million times – and those figures have only continued to increase. Comparatively, before the tech mogul's praise, just 50,000 users downloaded the Signal app each day.
With that, I have to ask – have you transitioned to Signal? Regardless of your answer, here are three reasons to consider making Signal your primary messaging app:
1. Signal offers unprecedented privacy.
Signal can send text, audio, images and video – just like its messaging counterparts WhatsApp, Facebook Messenger and Telegram. The key difference is that it offers unprecedented privacy via end-to-end encryption.
What is end-to-end encryption?
Think of it this way: Unlike other messaging apps, Signal jumbles up the user's messages before sending them, making them impossible to understand for everyone except the verified recipient. It's no wonder privacy advocates like Edward Snowden are so fond of the platform!
This end-to-end encryption prevents law enforcement, your mobile carrier and other third-parties from reading your messages should they intercept them. And the app's privacy doesn't end there. Signal refrains from storing users' data, features extended privacy options like face-blurring tools and app-specific locks and even provides the option for disappearing messages.
2. Platforms like WhatsApp could put your data at risk.
Did you know that messaging platforms like Facebook Messenger, WhatsApp, Telegram and iMessage offer a number of security risks?
Depending on the platform, you could be putting your contact info, search history, location and even your financial information needlessly in peril. The following graphic offers a detailed breakdown of the specific data to which each platform may link.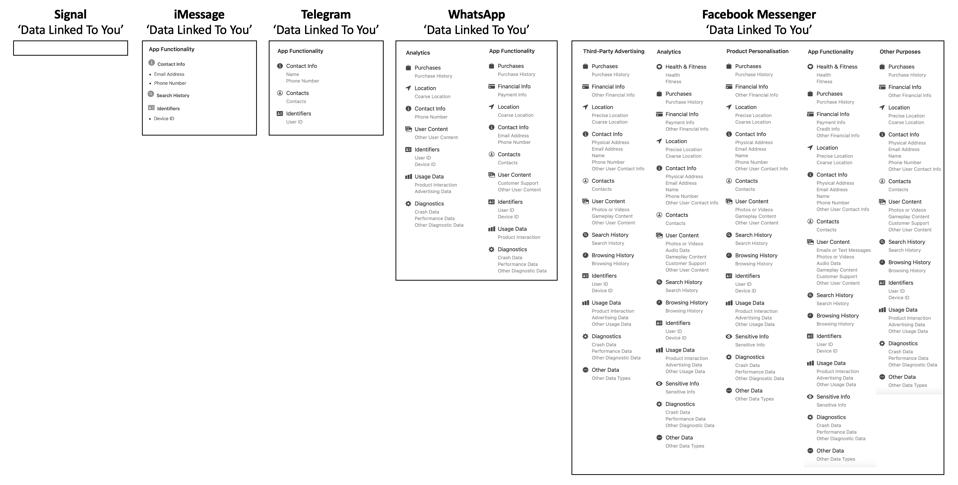 If privacy is a concern for you, the move to Signal may well be advantageous.
3. Switching to Signal is quick and easy.
Are you ready to move from WhatsApp or an alternative platform to Signal?
The process is quite seamless. Signal is your standard one-tap install app available in both the Google Play Store and the Apple App Store. Available at no cost from the non-profit Signal Foundation, it works the same way as any other messaging app – only with cutting-edge privacy measures.
So, if you're ready to make the switch from WhatsApp to Signal, simply take the following steps:
Download and install the Signal app.
Enter your mobile phone number.
Select a PIN code of four or more digits.
Add a username.
From there, you can begin to invite new users to Signal as needed. Users even have the option to move their WhatsApp group safely and securely to the privacy-focused platform.
The truth is that we all rely on technology to keep in touch with loved ones – but not all encrypted messaging apps are created equal. If you are searching for a solution with unparalleled security and a sleek user experience, Signal may well be the solution you've been waiting for.
Do you have insights, questions or comments on the move from WhatsApp to Signal? Please contact me for more information – or subscribe to stay up-to-date on all things Unsocial Media.